Noticeably sustainable with a transparent supply chain: Certified clothing from Kaya&Kato
Because we love what we do.
Our Partners and Customers
KAYA&KATO WORKWEAR
Together with our customers and partners, we are committed to changing working conditions in the textile industry. We refrain from using chemicals that are harmful to health. We ensure that production is fair. We do not abandon our values at the national border. With our blockchain solution, the origin and processing of the fabrics can be identified at every step. We act as one part of a big picture, where every process is transparently traceable. We can't do this alone. Only together with you can we change the textile supply chain. For this we thank all our customers and partners.
Quality comes from attention to detail. In order to deliver the best quality, everyone involved in the creation of the product must be fully committed to it. This only works with the right motivation - the desire to create the best possible that one is capable of. This desire for quality does not arise if the working conditions are poor and the pay is far from commensurate to the hard work. Fairness is the key to quality. This begins with the raw materials and the workers in the cotton fields and ends in the sewing room. What exactly do you expect from workwear? Of course it has to look good. But usability, durability, washability and comfort are also important. Our workwear combines design and functionality in equal measure. Paying attention to sustainable clothing means doing good and having the right awareness for the tasks of the present. As a fully tax-deductible business expense, the extra cost of high-quality, fairly produced and traded clothing is hardly relevant to the bottom line. Instead, you pass on the pride and awareness of doing the right thing to your employees. You will see this reflected in the performance and quality of your team.
Many people have long since discovered the added value of fairly produced clothing. Fairly produced workwear is now available that is as high quality as it is sustainable. Buying workwear also means taking responsibility. Our stylish workwear for men and women meets the highest demands for robust, chic and practical workwear. The tangible quality stands for trust, responsibility and sustainability. What started with sustainable aprons has now grown into a range of chef jackets, work shirts, jackets, trousers, blouses, shirts and T-shirts - and continues to grow with every customer request and season.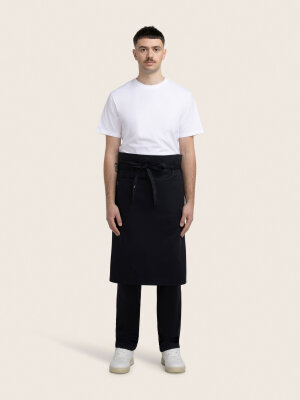 CO bar apron COBIA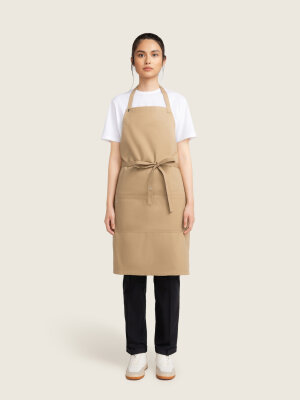 CO long bib apron, PIKE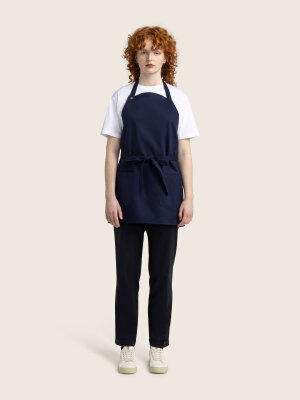 CO short bib apron, TUNA